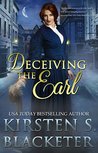 Deceiving the Earl by Kirsten S. Blacketer
Tracy's rating: 4 of 5 stars
Series: N/A
Release Date: May 10, 2018
Adele Prescott is the sole survivor of a fire that claimed her entire family, rescued and nursed back to health by loyal servants, she is now on a quest to find out who was responsible for the death of her loved ones. Disguised as her maid, Anna, who sadly perished in the blaze, Adele takes a position as housemaid to Christopher Underwood, the Earl of Dorrington, her father's friend, partner and her prime suspect.
Christopher rues the day he ever found the mysterious piece of metal that has destroyed his life. He has tried to make amends by hiring all of the Prescotts displaced servants, but he wants to do more – he wants to know who set the fire that destroyed their research and the metal itself. When he hires a new maid, who was scarred by the fire, he is even more determined to find the truth.
Adele wants to hate Christopher, but as she gets to know him, she becomes convinced that he is not her enemy. There is an undeniable connection between them, but neither is in a position to explore it, instead they dance around each other, trying to learn the others secrets without revealing their own.
When Christopher asks the maid "Anna" to impersonate Adele to draw out the killer – she agrees, but has conditions. Christopher proceeds to give her "lessons" on being a lady and is surprised how quickly "Anna" learns. After a dance lesson that turns heated, Adele decides that she must tell him the truth and worries how he will react. Christopher takes the news well, but becomes worried for her safety. They decide to proceed with their plan, but Christopher has reasons to change the conditions he agreed to, Adele is not happy, but when she learns the reason, she reluctantly agrees.
But before these two can have their HEA, they must reveal all their secrets, deal with murder, kidnapping and betrayal.
This is a well written, fast paced story with wonderful characters, steamy love scenes, lots of secrets, heartache and finally a soulmate type love. I did think the story could have benefited from an epilogue because the story ended quite abruptly.
I would happily recommend this book and look forward to reading more of this author's work!
*I am voluntarily leaving a review for an eARC that was provided to me*