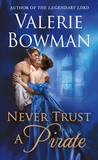 Never Trust a Pirate by Valerie Bowman
Barbara's Rating: 4 of 5 stars
Release Date:  May 2, 2017
Series:  Playful Brides #7
Sensuous, smart, captivating, humorous – you'll be caught up in the world of pirates, spies, intrigue, murder, revenge and, of course romance. You'll be captivated by it!!! Such an exciting read!!! I enjoyed it so much I read it non-stop until I finished! The characters are compelling, witty, sensuous and filled to the brim with secrets.
I loved all of the witty banter between the two main characters. They are alike in so many way – yet they each think they are so very different. Both have had hard lives – he was raised in Seven Dials with an abusive, alcoholic father and weak-willed mother and her father was murdered in front of her and her mother was convicted (though she wasn't guilty) of the murder. Both are seeking revenge for wrongs done to their families.
There are absolutely no dull spots in the book. It is fast paced and keeps you wondering what will happen next. What would you expect when you have two spies who don't know about each other trying to follow the same clues to the same villain.
"I requested and received this book at no cost to me and volunteered to read it; my review is my honest opinion and given without any influence by the author or publisher."