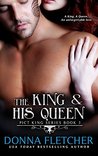 The King & His Queen by Donna Fletcher
Release Date: 2/23/17
Series: The Pict King, #3
Tracy's rating: 5 of 5 stars
What a great end to this series!
Talon is the Pict King, he is a fair and fearsome warrior who has done the impossible by uniting the Pict tribes, but to secure his position he must marry and sire an heir. He has married twice and neither wife conceived with him, nor have any of the women he frequently beds. His former wives have been remarried and are both pregnant by their new husbands, leading his people to believe that Talon is not able to father children.
Hemera is the sister of Verity (the heroine in The King's Warrior), she was introduced to us in the previous book and portrayed as a little slow-witted. But in reality, she is anything but slow – she is incredibility observant and sees more than she lets on. She knows people think she is slow, but she uses that to her advantage. She annoys Talon more than any woman he has ever met, she does not obey him, she challenges him constantly and is more alluring to him than she should be.
While awaiting the arrival of his new bride, Talon becomes aware of a traitor in his midst and he is shocked to find that Hemera is aware of the plot and is actively trying to find out who is involved. Slowly, Talon begins to see the real Hemera and his desire for her grows.
They begin a secret affair and the more time they spend together, the more they want. But with so many things working against them and the misconceptions people have about Hemera, it doesn't seem possible for them to be together.
The book completely wraps up the series and ties up all the loose ends from the previous books, but it could easily be a stand alone title. The writing is wonderful and the story flows at a good pace, there are steamy love scenes, a few graphic fight scenes, some shocking secrets, some lovely surprises and enough twists and turns to keep you reading and on the edge of your seat until the very last page.
I highly recommend this book and can't wait to see what Ms. Fletcher comes up with next!