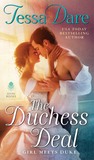 The Duchess Deal by Tessa Dare
Tracy's rating: 5 of 5 stars
Series: Girl meets Duke, #1
Release Date: August 22, 2017
OMG! I would give this book 10 stars if I could!
I LOVED this book and I'm going to say it – this is the best book I have read all year!
Emma and Ash are my new favorite book couple – the chemistry between them sizzled from their first meeting until the very last page.
George Pembrooke, the Duke of Ashbury aka Ash (as well as, bunnykins, my fawn, sunshine and honeybee along with several other pet names – LOL) is in need of a heir and for that he will need a wife. Almost as soon as he writes the words to his solicitor – a woman in a hideous wedding gown appears in his library. He doesn't go out in society since he was wounded in the war, so having a bride appear in his home is perfect.
Emma Gladstone is a seamstress and when Ash's former betrothed calls off the wedding – Emma is stuck with the gown and no money to show for her hard work. Desperate, she visits the Duke in hopes of payment. But to her surprise he offers her marriage. Of course she says no and leaves. But later she rethinks her refusal. Emma has scars of her own, but unlike Ash hers are not visible to the world. So when Ash shows up at her shop and tells her he really wants to marry her – she agrees.
They marry and Emma begins to break down the walls Ash has spent the last two years building. Love was never part of his plan – but as hard as he tries to keep her out, Emma storms the walls and steals his heart.
I laughed out loud, I cried and I had to fan myself reading this book – it was perfect. It is well written, flows perfectly, has a great supporting cast, witty banter, hilarious internal (and external) dialogue, steamy love scenes, a little heartache, a protective hero and a loving heroine.
If you are looking for a great read with a lot of laughs, emotion and a soulmate type of love, look no further – this is that book and it is a MUST READ KEEPER!!!