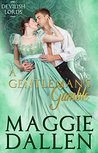 A Gentleman's Gamble by Maggie Dallen
Tracy's rating: 4/4.5 of 5 stars
Series: Devilish Lords, #3
Release Date: August 21, 2018
Jeb Cleveland and Eliza Beaucraft have a past, two years ago Jeb hit rock bottom and almost took a wager that would have cost him is honor and a young girl's reputation. But he realized his mistake and walked away – straight into Eliza, the sister of the woman he was going to wager over. Eliza tells Jeb in no uncertain terms exactly what she thinks of him and warns him to stay away from her sister.
Two years later, Eliza has a problem and now it is her turn to gamble. Her father wants her to marry his disgusting business partner, Eliza believed that she was well on her way to being a spinster and was fine with that. She is not a beauty, tends to be prickly and wants nothing more than to be independent. She hatches a plan, knowing Jeb to be a worthless rake with a gambling addiction, she decides to offer him a gamble he can't pass up – her dowry in exchange for a marriage of convenience. He will get the money he needs to pay off his brother in law and she will be free of her abusive father, but the true lure is the risk, this is an all or nothing kind of bet – there is every chance her father will not pay him – she is hoping that the thrill of the uncertain outcome will be the thing he can't pass up.
Eliza finagles an invitation to Georgie's house party and allows her sister Mary to update her wardrobe and soften her hairstyle, not that she thinks it will help, she is doesn't expect Jeb to want her – just her dowry.
When Jeb learns that Eliza will be at the party, he dreads seeing her, she reminds him of his failure, but he is shocked by her transformation and her cordialness, he wonders if she has forgiven him and hopes to get her alone to talk. As luck would have it, they meet by chance later that night and when she asks him to marry her, he agrees. She insists that theirs will be a white marriage, but he insists on sealing their deal with a kiss.
They set off for Gretna Green and form a friendship of sorts along the way, with Jeb, Eliza can be her blunt self and he likes that about her. Once they marry, he tries to learn more about her and her desires, but prickly Eliza responds by comparing him to his father. She realizes that she hurt him and tries to make amends and they end up kissing again. Afterwards, Eliza turns frigid again, but Jeb press her and answers her questions honestly.
Eliza begins to realize how badly she has misjudged him and begins to think that they could have a real marriage together. But when they return to London to face her father everything goes horribly wrong. But their time together changed Eliza and when she is faced with Jeb's betrayal, she refuses to believe that he hurt her on purpose, but it doesn't really matter, because whatever was between them is over and her father is the only winner in the gamble, or is he?
This was a very sweet, well written novella. There are a couple of heated kisses, but for the most part this is very low steam novella, with flawed characters, twists and turns, forgiveness and a very well done HEA.