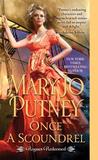 Once a Scoundrel by Mary Jo Putney
Tracy's rating: 4 of 5 stars
Series: Redeemed Rogues, #3
Release Date: September 25, 2018
When Lady Aurora "Rory" Lawrence's parents learn their youngest daughter has been captured by pirates and being held for an outrageous ransom, her father washes his hands of her, but her mother isn't willing to let her be sold into slavery. She contacts Lord Kirkwood, who is referred to Gabriel Hawkins by a mutual friend (Gordon).
Gabriel is familiar with the Barbary Pirates, having been captured and escaped himself. He agrees to try and rescue the girl. He is shocked when he finds the man holding her is none other than the man he escaped from years ago. Malek Reis wants 50,000 pounds for Rory, which is an astronomical sum for one woman, but Gabriel learns that she refuses to be released without her cousin, Constance and the entire crew of the ship she was traveling on. When Rory and Gabriel see each other for the first time, she is nearly naked and being displayed to potential buyers. There is an instant connection between them and Gabriel knows he will do whatever is necessary to free this woman.
When he learns why Malek needs so much money, he offers his services to help him get back his wife and children who were taken by Malek's evil cousin Gurkan. Malek doesn't have the full ransom, but hopes to tempt Gurkan with exotic animals and if necessary Rory and Constance. Malek promises Gabriel that if they are successful, he will release all his captives.
They set out for Constantinople, with high hopes, but both knowing that Rory could end up enslaved in a harem if things do not go well. Gabriel and Rory grow closer, but neither can make promises for the future, nor can they fully explore what it between them without endangering Rory's life. When they arrive in Turkey, things take a really bad turn and Gabriel calls upon the British Embassy for help. He is delighted to find one of his "Redeemed Rogues" is working at the embassy and is willing to help. But when Gabriel learns the women have been taken, it might be too late and Rory may be lost to him forever.
This was a good story, well written and action packed. The characters are likable, the imagery is well done, there are tense moments, a little heartache, a charming secondary romance and happy endings all around. The heat level of the book is on the low side, but as you read, you will understand why. I don't really know why Gabriel was considered a "Scoundrel", because in my opinion there was nothing "scoundrelly" about him, he was an absolutely wonderful hero and I was delighted for him at the end. This is the third book in the series, but it can easily be read as a stand alone title with no problem at all.
*I am voluntarily leaving a review for an eARC that was provided to me by NetGalley and the publisher."