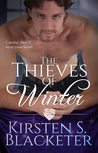 The Thieves of Winter by Kirsten S. Blacketer
Tracy's rating: 4 of 5 stars
Series: The Thieves of Winter, Books 1 – 3
Release: July 2016
This is a great trio of novellas that are intertwined and all run concurrently. I averaged my rating for all three and came up with 3.75 stars, rounded up for the complete collection.
Jewel of Winter, Book 1 – Jessamine Watson is the widowed owner of an obscure inn that she runs with her sister Judith, her life is boring and predictable, that is until a group of men stop for the night. The leader of the group is arrogant and demanding, she isn't happy about serving them – but when she overhears them talking, she is shocked – they are thieves! She is caught eavesdropping by Edmund, the Earl of Winterbourne and taken captive. He hides the jewels he stole on her person and she in turn hides them from him. She refuses to give them back and he takes her to London as his prisoner. Leaving the other two men with tasks – Simon will stay and find the jewels and Monty will follow the lead they uncovered to Scotland. He takes her back to his home and plans to seduce the location of his jewels from her – but the seducer ends up being seduced and will have to decide if he can trust her with his secrets and his heart. Very steamy, entertaining story that leaves the reader wanting more!
At Winter's Demand, Book 2 – (This was my favorite of the three books) Simon is know far and wide as the Lord of Devil's Acre – the infamous crime lord. He has known Edmund for years and is helping him locate his lost sister. But their plan hit a snag when a feisty innkeeper steals their leverage. Simon is left at the inn with Judith, who is demanding answers – when she gets none – she takes matters into her own hands. Simon might be the most feared man in London – but this is not London and Judith is not a simpering miss – she brings Simon to his knees – literally. He finds the jewels and plans to return to London, but Judith insists on going – he agrees and is tempted by her, but when he loses her at the train station and realizes the jewels are gone as well – he wonders if he has been played. He will leave no stone unturned in his search – someone is going to pay! He finally gets her back and they come to an understanding – it seems like they will have their own HEA – until reality hits him and he thinks she will be safer without him. Another steamy read with laugh out loud scenes, some violence and a HEA.
/Under Winter's Control, Book 3 – Monty is a detective with Scotland Yard and for the last two years has been working as a bodyguard for his sister, Lady Katherine – unbeknownst to her – Katherine disappeared without a trace 6 months ago and Monty has been searching for her. He has loved her since the day he met her, but she is far above his station and he knows Edmund has plans for her – plans that do not include him. He follows a lead to Scotland and is shocked to find her working in a tavern and pretending to be a widow. Katherine left when she overheard her brother brokering a marriage for her – she has been in love with Monty since she met him and will not be married off with no say. When Monty finds her, she is being proposed to by a local Laird – she knows she is going to have to move on because he has gotten persistent, but not back to Edmund or London. She tries to seduce Monty, but he has too much respect for her and her brother. He forces her back to London. When they get back to her brother's house, but he is not home. Later she realizes she has Monty's billfold – she goes to see him and he sends her away again – she is accosted outside and he is ready to intervene, when he sees Simon's men have taken care of her. She is reunited with Edmund and is surprised in the change in him. However when she overhears his plans for her future, she bolts. Monty goes to see Edmund and learns of his plans – he is furious and then they find out she is gone. He will move heaven and earth to find her – Edmund is upset and finally reveals the truth to Monty – he REAL plan – but is it too late? This was an interesting read, not as steamy as the previous two and not nearly as entertaining, but it was a good story and I enjoyed it.
I thought this was a very well done trilogy with a lot of twists and turns, steamy love scenes, amusing and tense moments and three HEAs – I would be happy to recommend this set and am looking forward to the next book in the series!
*I am voluntarily leaving a review for an eARC that was provided to me*